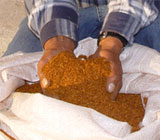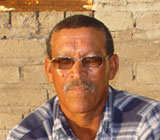 Q
Conversely, what is the hardest part of your job?
A
"As a Rooibos farmer you work in extreme weather conditions. Planting takes place during winter when it is cold and often raining. It is very labor intensive and tremendously strenuous on one's back."
Q
How has tea farming changed over the years?
A
"It has become more challenging as a result of higher input costs. In recent years mechanization started playing a bigger part in the industry although the bulk of Rooibos is still planted and harvested by hand. International standards and food safety requirements meant that we need a lot of certifications and as a result, paperwork plays a more important role."
Q
What do you think makes your tea more unique or better than others?
A
"The area in which I farm and the fact that I am personally involved from harvesting to processing."
Q
What makes the difference between a successful and unsuccessful harvest?
A
"Soil preparation, good plant material, rainfall, pest- and weed control and the ability to make a good quality Rooibos. Obviously price also plays a major role in the income that we generate."
Q
Do you exchange growing secrets with other local farmers?
A
"Yes, I supply them with information when needed."
Q
Are there any tips you can give on how to best brew your tea?
A
"Yes. Even though it is time consuming, the best way is still to let the Rooibos brew in a pot on the stove throughout the day."
Q
What is your favorite tea to drink & why?
A
"Definitely Rooibos as it is great tasting and also completely pure and natural. The fact that it is naturally caffeine free and rich in antioxidants is an added bonus."
Q
If you had any advice to give western tea drinkers, what would it be?
A
"Consume more Rooibos as it is good for you and your support also makes a difference in our lives!"
Q
What does this project & contribution mean to you?
A
"It makes me proud to be part of this project and to be able to inform people more about Rooibos and a typical day in the life of a Rooibos farmer."
Q
What would be the main benefit of receiving this donation?
A
"The money will be very welcome as I have already identified the need for a new rotavator to better aerate the fermentation heaps in order to make an even better quality Rooibos. At the moment it is all done by hand."